I have been devouring books lately and I just love my Kindle because it fits in my purse, holds a library and every time I have to wait or have a moment, I can get it out and read. Also, they have tons of free books and since I read so much, the husband has complained that I spend too much so I have been trying to find the gems in the free section - and there are many.
I like to read books on various subjects, I have read about civil rights, slavery, the holocaust, Chinese history, murder mysteries, romance and biographies. I am sure there are many other subjects as well but I am telling you, I am averaging 3-4 books a week so it is hard to keep up with everything.
One of my guilty pleasures which I try and do daily is find an hour to eat my lunch alone with a good book. It is my alone time and I find that the days I don't get it, I am grouchy. I munch on my lunch and read as much as I can during that time. That is not to say that I don't try and read more later int he day, but the hour lunch is a must. And I hate being interrupted during my me time. Of course I am probably cursing myself now for admitting it - some of you jokers will probably try and start calling me during my lunch just to annoy me! Lorne likes to tease me about my lunch and how I don't like to be bothered but I think deep down he gets it.
I think I get this from my mom who each day takes an hour for herself to read the paper and drink a Diet Coke (usually from McDonalds). She still does this to this day and has been doing it as long as I can remember. Heaven forbid she doesn't get her time - she usually does this first thing in the morning and will sit in her car, reading, doing the crossword and sipping her drink.
So - a lot of my friends are also avid readers and so I decided why not share with you some of the books I have enjoyed over the last 6 moths or so. If I feel so inclined, I might share some that were not worth my time.


War Brides by Helen Bryan- I really enjoyed this book centered around four women living in England during WWII and the struggles they had. The juxtaposition between the women was neat and their lingering friendship and bond they shared by going through this ordeal is touching. I highly recommend this book.


Finding Emma by Steena Homes- This one is emotional for mothers. It is about a woman whose child is kidnapped and she believes she is still alive and won't give up on finding her. She struggles with the relationship with her husband and other children but still won't give up hope. I liked this book a lot and there is a lot more to the story that I don't want to give away but it really makes you think about what is best for a child...Great read.


The Great Betrayal by Millenia Black- This book covers more controversies and depth that one person can think about. It is an intense book that isn't for the feint of heart. It deals with a woman who is pretending to be someone else and hides a secret and the greatest betrayal she can face while trying to make things right...Good book but approach with caution if you don't like sensitive subject matters.


Chasing Rainbows by Kathleen Long - This book was good but the writing was so-so. It is about a woman named Bernadette who just lost her father and her marriage and she is going through the grieving process. At times you want to strangle her but it shows you that people grieve differently. It is a quick read but don't get caught up in the average writing.


Second Hand Heart by Catherine Ryan Hyde - This book is very interesting. It is about a 19 year old girl named Vida who gets a heart transplant and starts remembering memories that aren't hers. It explores the theory that people have that memories of love are stored in a person's heart and what happens when that heart gets put into someone else's body. I enjoyed the book and thought it had a lot of interesting subjects it explored but I wasn't sure how I felt about the story as a whole. I would recommend it though and especially as one for discussion.


Don't Let Me Go by Catherin Ryan Hyde - I loved loved loved this book. It explores agoraphobia and other social issues all in one compelling story. It is a must read in my opinion. I enjoy books that tackle many issues at once and set your mind reeling and make you think about what your feelings are on those subjects. This book is about a man named Billy Shine who is an agoraphobic and how he starts to heal himself through caring for a 9 year old girl named Grace whose mother is a drug addict. It is also a heartwarming story about people who in other circumstances wouldn't untie but do so for the greater good of one small child and the difference that makes. Totally a great book.


The Moonflower Vine by Jetta Carleton- This is an interesting read about people not always being what they seem. It takes place in a rural midwestern area where people are less educated in a time where many struggled. It is the story of a family and chronicles the private secrets and struggles of each one. I wasn't sure I would like it and at times it moved a bit slow but I am glad I read it.


Pictures of You by Caroline Leavitt - I enjoyed this book but hated the ending. This book is about two women who leave their husbands on the same day and end up in a car crash where one of them dies and everyone trying to figure out what happened and why she was leaving. It is about intersecting lives and deciding if there are things better left unknown. I totally enjoyed the story - it had me riveted until the end but the ending left me sad.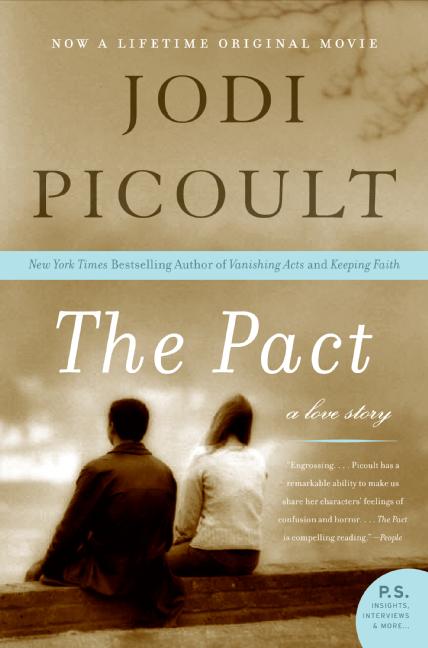 The Pact by Jodi Picoult - I really enjoyed this book. Again, not for the feint of heart. This book explores the relationships between two families and their lifelong friendship and what happens when violence rips the friendship to shreds. It discusses teenage love and suicide pacts and forgiveness - or lack thereof. Great read but heartbreaking.


Yellow Crocus by Laila Ibrahim - This book is a story about a black slave wet nurse on a Virginia Plantation. It talks about the struggles she faces as a slave, being ripped away from her son and how the white child she raises struggles with how slaves are treated. I so enjoyed this book and the ending as well. It really made me think about how far in society we have come in accepting each other but also the gaps in how far we have yet to go...


The Gandy Dancer by Jeff Andrews - This is a good book as well and a hard one to put down. It is the story of Mitch Corsini and how he goes about finding his daughter who he is estranged from and how that search ultimately uncovers who he really is. It explores the relationships between whites and blacks and the secrets and injustices they faced. Super enjoyable as you hear the story in the present and it flashes back to the past.


Long Time Coming by Edie Claire - This book was interesting. Not the greatest book ever but entertaining. It is about a woman named Joy who comes back to her hometown years after she left and her best friend was killed in a car accident. It has a bit of paranormal flare which isn't bothersome but also makes the story seem less real. It has a nice ending and good resolution at the end. A good beach book.


The Mailbox by Marybeth Whalen - This is another good beach read as it takes place mostly on a beach. It deals with second chances at love. Read it, you'll enjoy it.


She Makes it look Easy by Marybeth Whalen - This is a super intense book that I really enjoyed but also deals with a wealth of deep issues. It is about people who present themselves one way but are really hiding who they really are and the struggle people have in putting on appearances so people think they are perfect and those who want to be more perfect and struggle to be more than what they need to be. Totally good book and worth the read.


Finding Infinity by Susan Kiernan-Lewis - This is a quick and frustrating read but not bad. It is about a woman who has a dream and all the obstacles that keep her from her dream. I liked and didn't like the book - if you read it, you may feel the same way. I kept reading because the woman opens a cupcake shop...

So there you have a good list to start with. It is a few of the 45 books or so I have read recently. Some of the ones I didn't bother to write about are fluff books that I mostly enjoyed but aren't worth recommending. You know, fun little romance stories and such. If you want to know what they are, maybe I'll do a list of them in another blog post!